Mansfield Marine, as it exists today is 16 years strong. Travis Mansfield has been building and enjoying the boating lifestyle from a young age. Travis has 30 years of hands-on experience in an industry that he is passionate about. Along with his family, Travis lives and breathes boating. His formal qualification in the industry adds value to his service and dependability applied to Mansfield Marine's customers.
In 2012 Mansfield Marine took over the brokerage facility at Sorrento Quay, which includes the largest on water display of USED BOATS in WA, at the same time we welcomed Tom Blaxell to the team!
Mansfield Marine have imported, refitted if required and sold no less than a total of 90 boats from Malaysia, Singapore, Indonesia and USA. They have also brought more than 60 boats from the Eastern States over the past 10 years ( 40 of which have been used Caribbean's) all of which we have sold on the local market after ensuring that the boats are up to our five-star professional standard.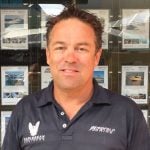 Travis Mansfield is a qualified Boat Builder / Shipwright (of 26 years). Travis builds from little runabouts through to 60m Fast Ferries and Motoryachts with construction made up of fibreglass, wood and aluminium. He also has extensive experience in project management of large boat / motoryacht building and re-fitting. Having worked overseas for extended periods of time in the boat / shipbuilding industry he has a widespread knowledge and numerous international / national contacts that support Mansfield Marine and our supply of boats and services.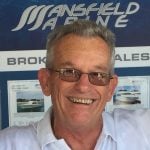 Tom Blaxell is an industry veteran of nearly 51 years service and experience. This includes 20 years running his own business, boat and surfboard building, design and maintenance, then followed by nearly 31 years as a senior boat broker in cruiser sales at Hillarys Boat Harbour. Tom has been boating literally since he was a baby in a basket, building his first canoe at the age of 10, his first surfboard at 14 and his first boat at 20. He became a champion offshore power boat racer, an avid sailor, including a race to Indonesia and remains today a keen surfer and family boater.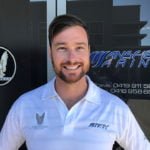 Daniel Testa is a qualified boat builder / shipwright of 15 years and has been lucky enough to have worked all over Australia in that time. He has worked in the construction of luxury flybridge cruisers to trailer boats and everything in between. He has run a successful marine maintenance business, servicing Perth for a number of years and has built a strong network of contacts in the industry. Since a very young age, Daniel has enjoyed being out on the water at every opportunity. In his spare time, you'll find him busy working on his own personal refit projects. Daniel is also a qualified pilot, so if you don't run in to him kicking back in one of Rottnest's bays, he might be flying overhead.